Van Herwerden - Bicycle webshop
Multidomain bicycle webshop in Craft Commerce 3 for this sporting bike specialist
With a total of more than 120 years of experience in the cycling world, one could say that family business Van Herwerden is a genuine expert when it comes to bicycles. From its 2 stores, it has been serving customers for more than a century, providing them with the very best advice. Apart from the physical stores, the webshop eventually also started playing an ever-greater role in serving the company's large customer base. In 2018, Van Herwerden approached WHITE. The time had come to breathe new life into its existing Craft Commerce webshop and add a number of terrific new functionalities. And we were given the honour of realising that!
Migration of multidomain website
Following wonderful cooperation throughout the project, the migration was completed in October 2018. Because Van Herwerden decided on a multidomain website, both of the company's sites can be managed from a single Craft backend. And Van Herwerden utilises an extremely convenient integration with the Vendit POS system. Using this integration, products, categories, images and stock levels are sent from the POS system to the webshop. Conversely, quotations and orders are fed back one-by-one from the webshop to the POS system. As a result, the two most important systems constantly keep one another updated. This doesn't just save a lot of manual work, but saves plenty of time in particular – something that business owners can never have enough of!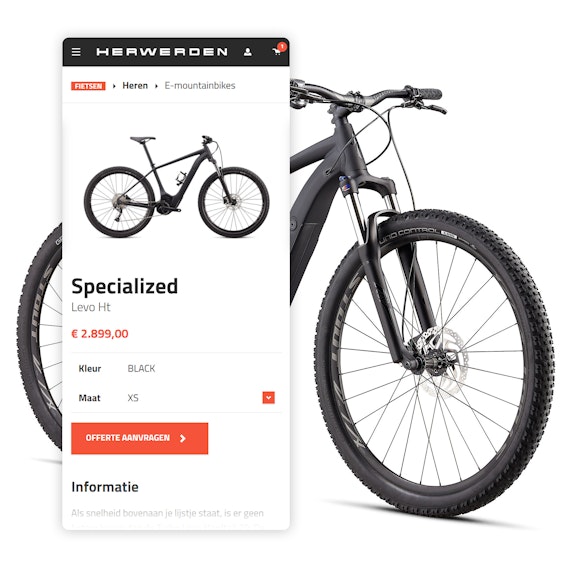 Optimisation and further development
By now, some years have passed since the start of our cooperation, and the Van Herwerden website has undergone many major developments. The huge motivation of the people behind Van Herwerden demands a system that – in terms of possibilities – matches the company's ambitions for growth. Based on these ambitions, we started migrating the webshop from Craft 2 to Craft 3 in 2021. This was a complex job that we took on with great care and completed without any hassles. The result is a superb, detailed webshop that – for the time being – isn't yet fully developed.
Check website online
Steven van Herwerden, owner of Van Herwerden Wielersport
Also check out these webshops