B2B webshops and portals
Grow, professionalise and increase revenue with a B2B webshop or portal
You're on the lookout for a reliable, specialised partner to expertly help you build or migrate the B2B webshop run by your (international) B2B ecommerce enterprise. You want to grow and professionalise your business and increase your revenue. But the business-to-business webshop or portal for achieving this either does not yet exist, or still has to be prepared for this major step. Now is the ideal time to embrace an experienced specialist. An expert who realises that – as a B2B ecommerce enterprise – you must have an ability to process customer-specific pricing. An expert who knows how to seamlessly integrate various ERP systems and understands that your webshop is unique and therefore demands a unique approach.
The added value of a B2B webshop
Increase your conversion rate and revenue
Improve your service and your customers' satisfaction and loyalty
Work faster and more efficiently thanks to real-time ERP integration
Customer-specific prices, discount rates and supply terms
Custom B2B webshop and portal
This demands customisation with a high degree of complexity, something that Craft Commerce and we at WHITE can handle with ease. And customisation doesn't mean that every tiny detail has to be newly built from scratch. On the contrary, we prefer to use existing solutions, while only developing what does not exist. And we obviously use your business objectives as our starting point. This allows us to work as efficiently as possible and stay focused on the right issues.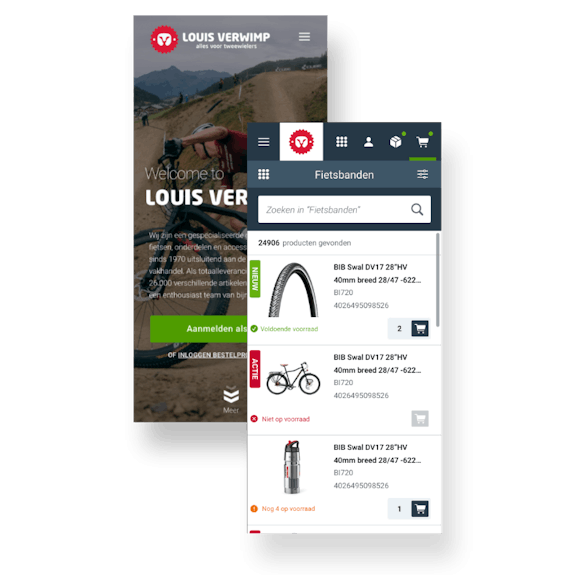 B2B webshop or portal in Craft Commerce
We're passionate about specialising in the development of B2B webshops and portals that are perfectly in line with the wishes of our customers, and about being really good at it. We at WHITE love coming up with advanced technological solutions. We consciously choose to build webshops in Craft Commerce because this CMS is ideal for the development of a customer-based approach. The wide-ranging logistical and operation processes employed by the various B2B ecommerce enterprises mean that no two webshops or portals are ever the same.
Why should you have a B2B webshop by WHITE?
More than 20 years of ecommerce experience
Strategic partner for international B2B enterprises
Expert in the realisation of complex web applications
Integrates with virtually all ERP systems
Real-time integration with ERP systems
Many years of experience in the retrieval of product and customer data from renowned ERP systems, such as Microsoft Dynamics NAV, SAP Business One and Afas Profit, have given us an unrivalled understanding of the importance of seamless integrations between back office systems and ecommerce platforms. And if you also use other specialised systems, we'll effortlessly integrate your CRM, PIM, WMS, stock and other back office systems. Even software packages that are more sector-specific – like Gripp, Becosoft, Sendcloud or Plusmaker – are nothing new to us.
B2B webshops and portals
Developed by WHITE
Want to know what we do? Then take a look at previous Craft Commerce projects that we've handled on behalf of B2B ecommerce enterprises, which are now the proud owners of world-class webshops and/or portals.