Heftruckservice – B2B webshop
B2B webshop with Snipcart integration
Heftruckservice, based in the south of the Netherlands, has for years been the partner of choice for anyone looking for new, refurbished or used forklifts. The Heftruckservice range is huge and includes electric forklifts, stackers, pallet trucks, cherry pickers and everything in between. Years ago, we developed the very first Heftruckservice website, which was perfectly in line with the wishes and needs of the company at that time. But just like any other healthy company, Heftruckservice has grown over the years. Time to once again put our heads together for a major revamp.
Switch to Craft CMS
If you've been using the same CMS for years, the switch to a new system and new website can take some time getting used to. Even so, this was the right time for such a step. Not just because WHITE is now a top expert in Craft CMS websites and webshops, but also because Craft – thanks to its flexibility and integration options – much better matches the growth ambitions of Heftruckservice. In addition to the CMS switch, we also tackled the frontend. The website was due a fresh look, and we were given the honour of handling both the design and the realisation of the website.

New look and new features
Besides a new look and feel, a number of great features were also added to the website. Let's start with a connection to the external checkout system Snipcart. In most cases, we develop websites in Craft Commerce. But in the case of Heftruckservice, it was a matter of migrating an existing webshop with Snipcart integration to the new environment so that our client could continue using its current checkout system. Due to the lack of a VAT number field in Snipcart, we first had to customise the existing setup in order to add this field. A piece of cake for our experienced developers!

The Tyre Pitstop is another feature that called on our expertise. Heftruckservice wanted the use of a configurator to help its customers select the right tyres for their forklifts. And we managed to develop exactly what the client had in mind by using an existing Craft CMS plugin. Heftruckservice happy, WHITE happy!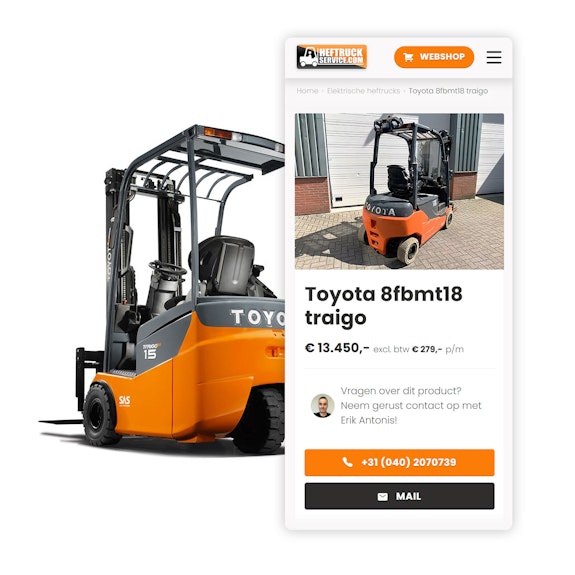 Also interested in a B2B webshop?
Do you want to talk with us about an online project for your business? Send us a message below ... or call ... chat ... e-mail ... LinkedIn ... us if you prefer.
Also check out these B2B webshops