BouMatic - Website with B2B portal and webshop
A huge website migration with as an end result a B2B webshop that is ready for the future!
BouMatic is a leader within the worldwide dairy sector. Its extensive global distribution network means that dairy companies around the world can take advantage of the company's innovative products. As a result, BouMatic has been a household name within the international dairy industry for many years. The company was officially founded way back in 1852, so it has no shortage of in-depth know-how and experience. The characteristics that form the motive behind BouMatic are innovation, quality and excellence.
Dealer login & knowledge base
Expertise needed!
A project that started as a migration for us. BouMatic already had a Craft CMS website with a dealer login function, but this login function only contained documents and information. Along with an ambition to step into the world of e-commerce, the company wanted to start a B2B webshop. BouMatic went on the hunt for an appropriate Craft Commerce partner and that's where WHITE came in!
WHITE is a Craft Enterprise Verified Partner with considerable experience in the development of (B2B) webshops with greater complexity. So, we knew exactly what BouMatic needed and found ourselves itching to get started on this project.
Challenge accepted
BouMatic's wide range of international customers gave us more than enough subject matter to consider. After all, if customers are based on different continents, we'd have to develop advanced features that take different time zones, languages and currencies into account. And, apart from these necessary features, BouMatic had additional requirements for completely futureproofing its B2B webshop. One of these was the application of personalised price- and product policies for every dealer. Also, the company wanted farmers to have the option of ordering their items from different dealers, thereby giving them the ability to place combined orders. In addition to an onboarding flow for first-time portal use by farmers and dealers, BouMatic wanted separate high-speed catalogues for two different global zones.
One thing was very clear: this project would not be short of challenges. But WHITE wouldn't be WHITE if we didn't meet these challenges head-on and give them our full and complete commitment!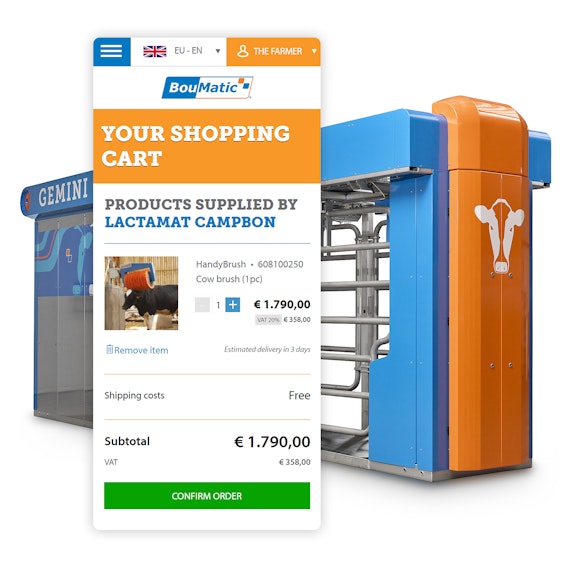 On your marks, get set, GO!
A good start is half the job done. With that perspective in mind, we boldly began working on what would become an enormous website migration. We came up with a strategy and thoroughly tested every minor detail. For nearly two years, we worked on developing this project. A project that was initiated on Craft CMS version 2 and went live on the latest version of Craft CMS. This meant that the webshop benefited from all best practices and the most recent Craft features. And what benefited the project even more was the flexibility that has again proven to be a standout feature of Craft CMS. For example, modifications necessary during the duration of the project to (continue to) comply with various legal requirements could be implemented without any hassle. And now, after months of development, the project is about to go live! These are hugely tense times for us, but we are oh so very proud.

Marleen Roosen, BouMatic Marketing Communication Manager Europe
Features of this global website with B2B webshop
High-speed product catalogue
With detailed search and filter options
Global B2B webshop
Aimed at customers on different continents
Dynamic pricing policy
Prices adjustable at dealer level
Multi-dealer shopping cart
Ordering a single consignment from multiple dealers
Multi-currency
Country-specific currency settings available
Preferred dealer setting
Customers able to specify their preferred dealer
Optimisation and further development
The development of BouMatic's B2B webshop has been a great success, but this doesn't mean that we're now left with nothing to do. BouMatic still has a wish list containing enough extra tasks involving the optimisation and further development of the webshop. Examples include the addition of a number of language zones and a planned restructuring of the technical library. Plenty of work to be done!
Also check out these websites with B2B portal and webshop