A new website and B2B customer portal for Rioned
Rioned is the European market leader in the field of sewer cleaning and inspection equipment. Plumbing companies and other professional users from all over the world have turned to this international company for more than 65 years. Reliability and innovation are characteristic of the products developed by Rioned. A modern website with a flexible and user-friendly CMS is crucial for the company to present itself using rich content.
UX/UI Design
Brand new design reflecting Rioned's professionalism with much more room for product branding and storytelling
B2B webshop
Custom-made B2B webshop for direct ordering of parts and accessories for Rioned products, including different product views
Knowledge base
Seamlessly integrated knowledge base for product manuals and instructional videos, including lightning-fast search tool with filters
Craft Commerce
Robust and reliable thanks to the flexible Craft Commerce platform. Multilingual as standard and set up to publish unique content per country
The brief for this website
Koen Scheepens had just started working as an online marketer at Rioned when he set to work on a new website. "Whereas the old website was primarily built for e-commerce, in the new set-up we wanted to do a lot more with branding," he reflects. "What kind of machines do we make and what knowledge and people are behind them? Those kinds of stories appeal to customers and we wanted to tell more of them. We already had enough content for that, but a new website was needed to present it in an attractive way.
Our main other requirements were:
an upgrade of our B2B customer portal for e-commerce and to share documents, such as price lists, quotations, manuals and equipment instruction videos;
maintaining multilingualism;
a vacancies page as part of the website.
We assumed a nine-month lead time for the delivery of the website, so the planning was challenging."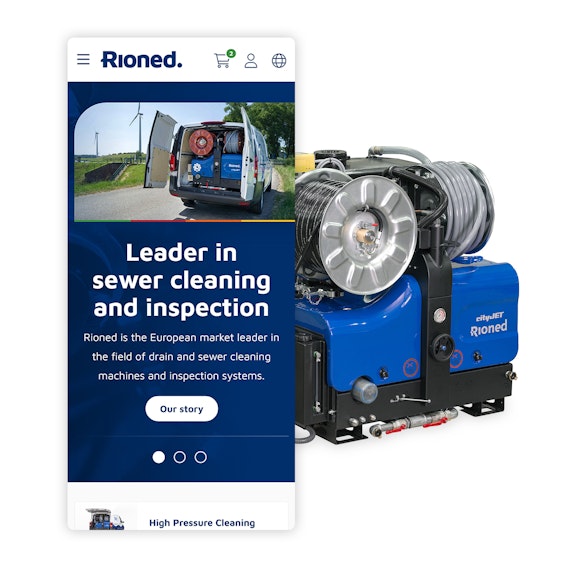 A pleasant and reliable partner for Craft CMS
"After internally choosing Craft CMS, we started looking for a supplier. We chose WHITE without hesitation. We felt the best personal click with them and the promise of a pleasant collaboration with short lines of communication and easy contact. WHITE also made it clear that they understood our case and had a clear idea of what we wanted. The fact that they had already constructed several similar websites for industrial companies and B2B e-commerce gave us extra confidence."
"In consultation with WHITE, we chose an approach in which building the new website and filling it with content and CMS training modules ran in parallel. As a result, each completed page almost immediately represented Rioned - a bit like a house delivered room by room, complete with furniture. This allowed us to give feedback step by step. WHITE often processed our points for improvement within a few hours. This allowed us to make quick progress and everyone worked efficiently."
Modern customer portal with B2B webshop, made using Craft Commerce
"WHITE has done a wonderful job with the delivery of our new website: the design looks modern and the content accompanying our products and services is given plenty of space. For the purpose of our e-commerce, the revamped customer portal has a separate B2B webshop, made using Craft Commerce. The webshop distinguishes between product pages for machines - for which a quotation can be requested - and maintenance products, which can be ordered directly.
Thanks to a lightning-fast search tool with filters, customers can also very easily find documents on the portal, for example a manual explaining why an appliance has a malfunction. Forms to fill out for repairs automatically reach the right department. That the number of quotation requests has increased since the launch of the new website can hardly be a coincidence. The website is noticeably leading to greater commercial success."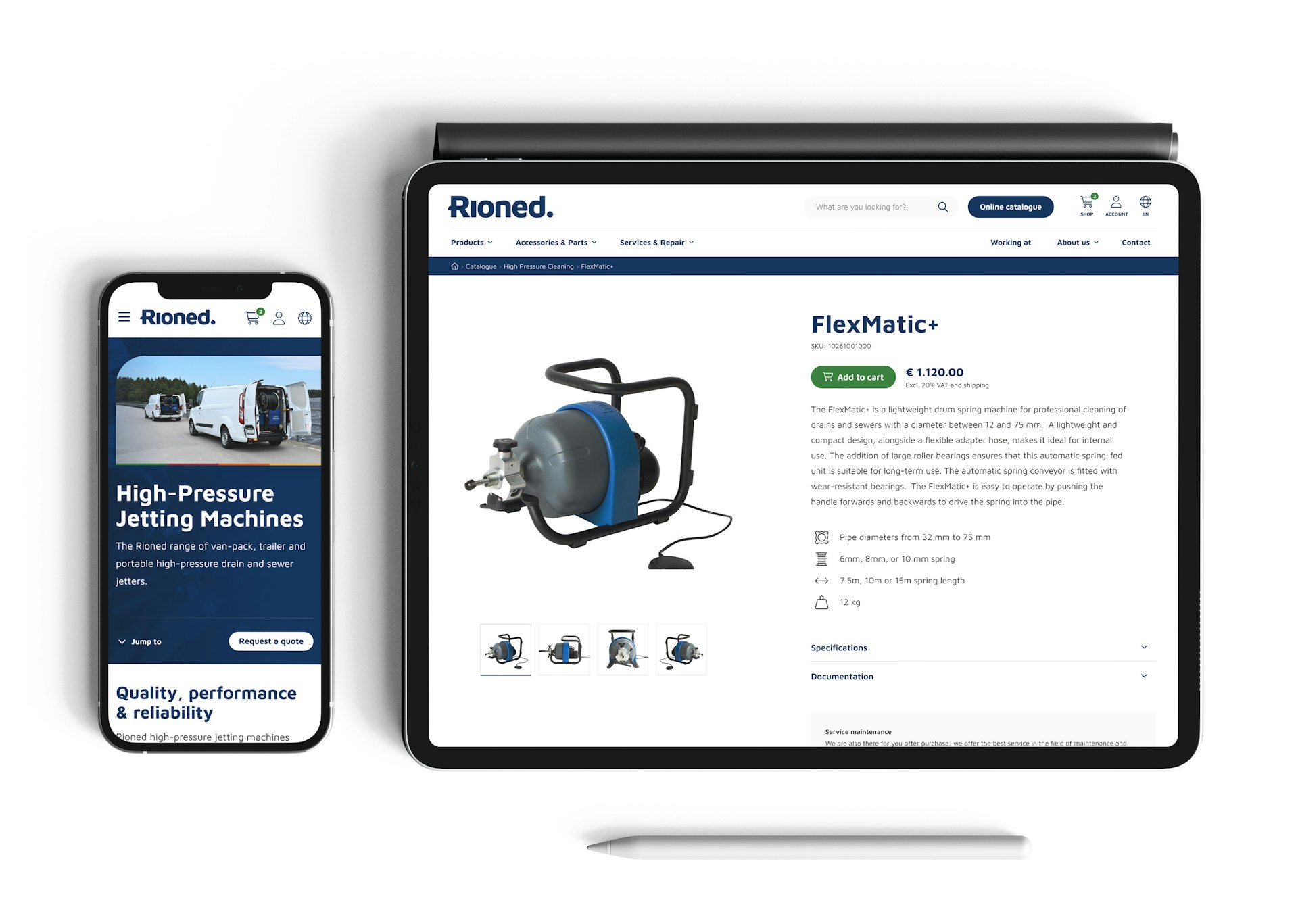 Professional vacancies page and multilingualism for customisation per country
"We are also happy with the new vacancies page on the website. The layout is much more logical than before and the professional look suits the market leader that we are. Thanks to the multilingualism that WHITE has built in (Dutch, German, English and French), we can tailor content better - for example by using the right units for volume, power and pressure for each country, and emphasising the features of a device that are most important there. Small adjustments like that make a big commercial difference."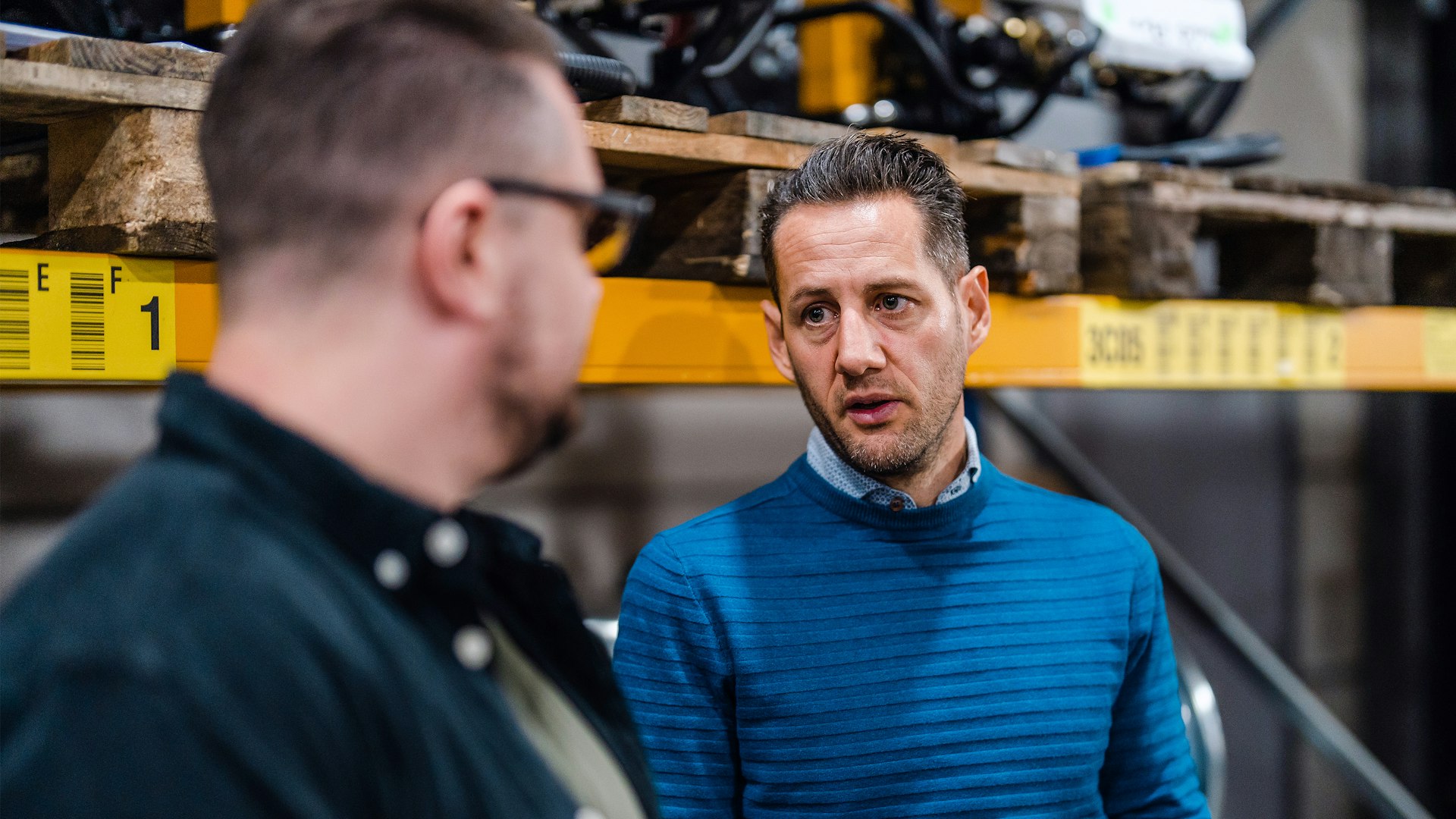 Rioned – WHITE collaboration