Make the shipment of orders enjoyable and efficient!
Shipping your orders is a time-consuming yet important job. You'd like your customers to receive their packages quickly and be able to return items without difficulty. That is, after all, how you keep your customers happy. And that will increase the likelihood of them returning to your webshop in the future. Thanks to the Sendcloud plugin for Craft Commerce, the entire shipment process becomes a piece of cake! Once your Craft Commerce webshop is linked to Sendcloud, orders are automatically passed to Sendcloud and you can download multiple dispatch labels simultaneously at the press of a button. Last, but surely not least, you can use this plugin to display a service point location selector on your webshop's checkout page. This makes the shipment process fast as well as user friendly!
Sendcloud shipment platform
Sendcloud is a single shipment platform that allows users to ship packages via PostNL, DPD, DHL, UPS and other carriers. And it offers highly competitive rates. It represents an all-in-one solution that manages order processing, track & trace notifications and a personalised returns portal. Improve your conversion rate with flexible and service point delivery options on your webshop's checkout page. Save time with easy-to-use packaging and labelling shipment tools. Keep your customers in the loop with branded tracking pages and automated emails. With Sendcloud, you can even offer your customers a hassle-free returns process and - as a result - a positive experience.
How does the Sendcloud Craft plugin work?
WHITE has developed this official Craft plugin for the integration of Sendcloud into Craft Commerce Webshops in close cooperation with Sendcloud. This means that the link between Craft Commerce and Sendcloud is seamless. And we've made it super-easy to connect your webshop to Sendcloud – just one click on the 'Connect' button will do. Then, you will just need to configure your preferred shipment methods in Craft Commerce and you'll be good to go. New orders are automatically passed on to Sendcloud and dispatch labels can be printed directly in Craft. It's as simple as that!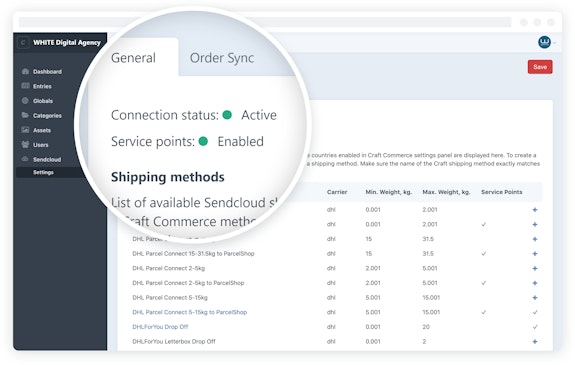 Support for Sendcloud service points
In addition to the usual shipment methods, the Sendcloud plugin also supports shipments to the service point networks of Sendcloud carriers. This allows you to give your customers the option of having parcels delivered to collection points. Simply specify a shipment method per service point carrier in Craft Commerce. The service point location selector popup is then displayed on the checkout page. We've already prepared the integration of the service point location selector for you and can provide you with a great example of how you can incorporate it (or have it incorporated) into your webshop checkout. Your contract with Sendcloud will determine whether you can take advantage of the service point shipment option.
Are you interested in the Sendcloud plugin for Craft? The plugin is available in the Craft Plugin store. After installing the plugin, an alert bar will be displayed in Craft. Click on this bar to activate the license in the Craft Plugin Store using your Craft ID. Following activation, simply connect your webshop to Sendcloud by navigating to the plugin settings page.

Please note: the Sendcloud plugin will only run on Craft CMS version 3.4 and later versions, and on Craft Commerce version 3.1 and later versions. And you'll obviously also need an activated Sendcloud account. Don't have an account yet? Create a Sendcloud account.