Stock management has never been this easy!
With your warehouse, a fundamental part of your webshop, you can save a lot of time by efficiently managing your stock. And the Picqer plugin for Craft makes that possible. In fact, efficiency is a core value strongly emphasised by the company behind the software. This plugin, developed especially for Craft Commerce, offers an extremely useful solution to warehouse-based webshops that want to refine their internal processes so that they can be of even better service to their customers. By using Picqer and eliminating the need to switch between various software tools, the processing of orders becomes 5 times faster on average. This also creates a sense of calm within the team and leads to a considerable reduction in errors. What more could a warehouse manager want?
Picqer warehousing software
Picqer represents user-friendly warehousing software designed especially for webshops. As a warehouse-based webshop, you want a precise understanding of your current stock levels at all times. Picqer's software makes this really easy for you. It allows you to – from Picqer – manage all processes that should take place in your warehouse. This ranges from the purchasing, registration and location of stock to the picking and dispatching of orders. With Picqer, you get all information about your warehouse in one central place. This will save you a lot of time because you – for instance – no longer have to log into different platforms. You'll also streamline your warehousing processes, with Picqer providing a uniform method for the processing of all your orders.
What does the Picqer Craft plugin do?
Together with Picqer, WHITE has developed this official plugin for Craft Commerce webshops. The Picqer Craft plugin ensures that information gets transferred automatically between Picqer and Craft Commerce, making double entries unnecessary. This means that you can avoid errors, work quickly and create a sense of tranquillity in your warehouse.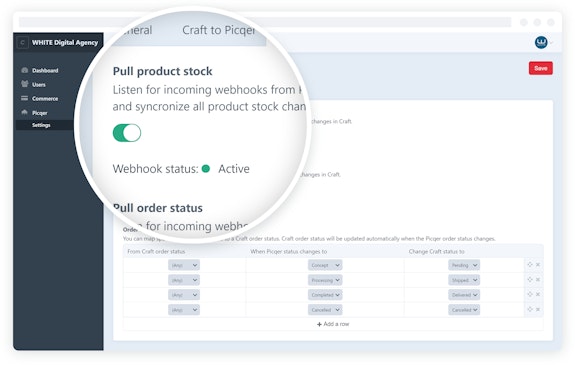 Synchronisation of product stock levels
The plugin facilitates synchronisation of product stock levels between Picqer and Craft. Additionally, webshop orders are automatically pushed to Picqer for processing there. If orders containing new products are sent from Craft, these new products are immediately incorporated into Picqer too. And order status changes in Picqer are automatically fed back to Craft for display in customer webshop accounts. This seamless connection between Picqer and Craft Commerce makes the processing of orders more efficient than ever before!
Interested in the Picqer plugin for Craft? The plugin is available in the Craft Plugin store. Once you've installed the plugin, Craft will display an alert bar. Click on this bar to activate the license in the Craft Plugin Store using your Craft ID. Following activation, it's easy to connect your webshop to Picqer via the plugin settings page.
Please note: the Picqer plugin will only run on Craft CMS 3.4 and later versions. You'll also need Craft Commerce 3.1 or a later version. And an activated Picqer account is another obvious requirement.