Integrates Klarna Pay Later with Mollie
Choose Mollie, Europe's number 1 payment provider, for payments in your Craft Commerce webshop. Some Craft Commerce webshop owners are already familiar with the Mollie Craft plugin, which gives visitors the option of payment using – amongst others – iDeal or credit card. However, one popular payment method has been missing from the existing Mollie plugin: pay later! So WHITE, in close cooperation with Mollie, has developed the Mollie Plus Craft plugin. It uses the Mollie Orders API, which makes it possible to offer advanced payment methods. With the Mollie Plus Craft plugin, you can – in no time at all – integrate hugely popular payment methods Klarna Pay Later and Klarna Pay in 3 into your Craft Commerce webshop. Given that it's impossible to imagine a world without online shopping, a pay later option simply cannot be lacking. And besides satisfying your customers with an accessible, user-friendly payment option, you'll also immediately comply with the legal obligation to offer an alternative to prepayment.
Mollie payments
Mollie is a reliable payment provider that facilitates a large number of European payment methods. Thanks to a wide range of available options, Mollie can be used by large as well as small webshops. Reliable, secure and totally connected with the modern world. Regardless of whether you take in many or just a few payments, Mollie is often the best choice!
How does the Mollie Plus plugin work?
Once installed, this plugin is super-easy to configure, i.e. in the same way you'd configure other payment plugins for Craft Commerce. Just activate your preferred payment methods in your Mollie dashboard and paste your Mollie API key into the Craft Commerce payment gateway. That's it! In addition to the Klarna methods, the plugin also connects to all the other regular Mollie payment options.
This means that the Mollie Plus plugin will give you everything you need, thereby making the standard Mollie plugin for Craft redundant!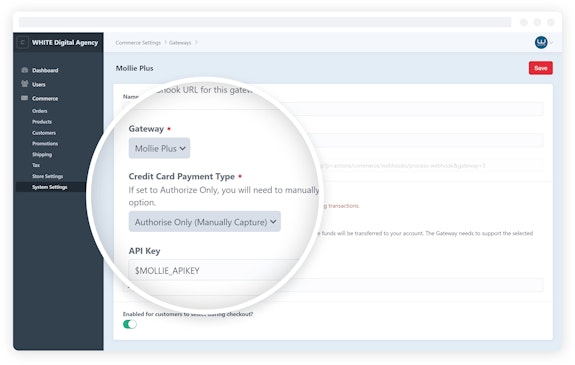 Interested in the Mollie Plus plugin for Craft? It'll soon be available in the Craft Plugin Store. Once you've installed the plugin, a warning bar will be displayed in Craft. Click on this bar to activate the licence in the Craft Plugin Store using your Craft ID. Following activation, you can easily connect your webshop to Mollie via the payment gateways page.
Please note: The Mollie Plus plugin will only run on Craft CMS version 3.4 and later versions. You'll also need Craft Commerce 3.1 or a later version for this plugin. And an activated Mollie account is obviously a further requirement. If you don't have a Mollie account yet, you can simply create one. And if your website still runs on Craft 2, now might be the time to change to Craft 3. Read more about migration to Craft 3. Would you like to be notified as soon as the Mollie Plugin for Craft CMS is available in the Craft Plugin Store?
Then give us your email address and you'll be first to know!