Dashboard
After logging into your Craft control panel a dashboard page appears. This is a place where you can put a collection of blocks containing useful information. These blocks are called Widgets and you can decide what type of information you want to see here. This way it's easy to keep an extra eye on a certain part of your website.
# Adding Widgets
Click +New widget in the upper right side of the dashboard page
Choose a widget from the list, this will take you directly to the settings of the widget
Configure the widget > Save
The list of available Widgets also depends on the plugins installed.
# Remove Widgets
Click on the cog icon in the upper right site of the dashboard page
Find the Widget you want to remove and hit the cross mark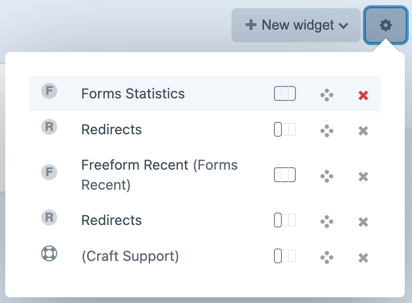 Try to resize a installed Widget and move it around to the desired order.