About this user manual
# Introduction
This manual is written for end users of the Freeform plugin installed on Craft CMS (opens new window). If you are a developer and looking for technical documentation we refer you to the creators of the plugin, Solspace (opens new window).
With Freeform, you are able to create simple or complex web forms in an intuitive way. With a web form certain information can be collected for a specific purpose. You can think of a contact form, application form, registration form, etc.
With this manual our goal is to give a basic explanation of the PRO version. There is also a LITE version of Freeform available. We have arranged the chapters in such a way that they correspond to the Control Panel menu.
Freeform can be obtained through the Craft Plugin Store (opens new window) and usually will be installed by your website developer.
Go to your Craft environment and log in. The Freefom menu will take you to the installed plugin.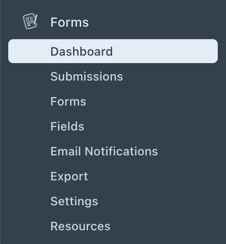 The developer of your website can choose a different name for the menu while installing the plugin. In this tutorial we have used Forms as example.
Having trouble to figure everything out? Please contact the developer of your website.
In this manual we assume you are working with an English speaking user in the Craft control panel. If you are working with a Dutch-speaking user, it is better to switch to the Dutch version of this manual.
This manual has been carefully compiled by WHITE Digital Agency.
You are not allowed to distribute this Craft manual without first asking our permission. Any brands and logos mentioned are the property of Pixel & Tonic (opens new window) and Solspace (opens new window).
Additions or comments? Let us know! Together we can help others have a great Craft experience.